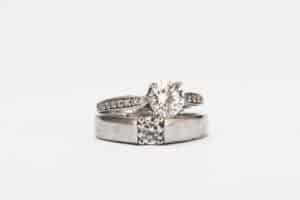 Getting an engagement ring is like trying to pick out the perfect puzzle piece—it requires careful consideration, making sure that the design and style perfectly match your partner's taste. And once that puzzle piece is set, it's impossible to recreate the same design. This is where melee diamonds work great: they're the perfect addition to making an engagement ring more special and one-of-a-kind.
Making this decision requires as much knowledge as possible before swiping that credit card. From the band to the shape, size, and style of the center stone–all of these elements come into play when deciding on that perfect engagement ring.
All About Melee Diamonds: The History
These classic diamonds are tiny diamond pieces that are a fraction of the size of standard-sized diamonds. They have become an increasingly popular option among other popular styles of engagement rings and other pieces of jewelry due to their:
Affordability

Unique look

The sparkle they bring
They coined the name "Melee" from the French word "Mêlée", which means a confused fight or battle. This perfectly describes these diamonds as they are usually clustered together in a melee setting. These diamonds range from .021 carat to .074 carat and add sparkle and texture to any ring without having to sacrifice budget for size.
What Makes Melee Diamonds So Special?
Because these diamonds are so small, they often require a special kind of setting, such as pave or microwave, to keep them securely in place. This type of setting also enhances their sparkle and creates an eye-catching look that is truly unique.
Adding these diamonds to a main diamond can create a beautiful halo effect around the center stone as well, making it truly stand out—which is why they are becoming so popular!
These tiny diamonds are available in all diamond shapes, sizes, and colors. This makes it easy to choose diamonds that perfectly complement your engagement ring or any other piece of jewelry you're planning to purchase. Whether you opt for single melee diamonds or a cluster of them in different shapes and sizes, they will certainly add extra brilliance and sparkle to the piece.
Essex Fine Jewelry—Where The Diamonds Of Your Dreams Reside
At Essex Fine Jewelry, we offer a wide selection of melee diamonds in different shapes and sizes. From round diamonds to princess-cut diamonds, you can find the perfect piece to make your engagement ring look even more beautiful. We also provide expert advice on how to choose the diamonds that best suit your needs and budget by:
Advising you on the quality of diamonds (color, clarity, etc.)

Helping you decide which shape and size best suits your ring

Showing you how to combine different types of diamonds in one setting
Our experienced team is here to answer any questions you may have, and to help you pick the perfect melee diamond for your special occasion. Let us help make your dream engagement ring come true and shop at Essex Fine Jewelry today!