Sell Estate Jewelry
Selling your estate jewelry can be a difficult decision. You might have diamond or gold jewelry that's been passed down for generations or holds some specific sentimental value. Because of the special place this type of jewelry can hold, if you choose to sell it, you'll want to know that you're working with a trustworthy buyer that will offer you a fair price. At Essex Fine Jewelry, our team of professional appraisers are skilled at evaluating estate jewelry, so you can leave with cash in hand and with the knowledge that the transaction was handled discreetly and fairly.
Experts in Estate Jewelry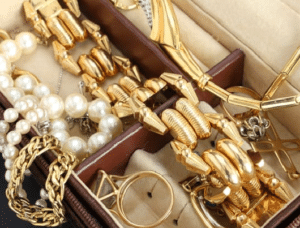 When you choose to sell your estate jewelry to Essex Fine Jewelry, you're putting it in the hands of the top diamond estate jewelry buyers in Atlanta. Estate jewelry can fall into a number of different kinds of categories. Basically, everything that's been previously owned can be considered estate; this includes both vintage styles as well as antiques. While antique jewelry is usually anything more than 100 years old, classic art deco pieces that date to the 1920s and 1930s can be considered antique as well. Jewelry from the 1980s—while not antique—is considered vintage. Here at Essex Fine Jewelry, we're well versed in all the different variations of estate jewelry, so when you're in a position to sell estate jewelry in Atlanta, come to us and we'll make sure you get an offer that properly reflects your jewelry's value.
Experience You Can Count On
Because you only get one chance to sell a piece of estate jewelry, you don't want to have to rely on a fly-by-night operation. With more than 30 years of experience buying and selling jewelry, Essex Fine Jewelry is among the most respected estate jewelry buyers in Atlanta. Our skilled team of appraisers will take the time to carefully consider and evaluate each piece of jewelry, so you're assured you're getting the most value out of everything you have to offer. By meticulously examining every ring, broach, necklace, and bracelet to ascertain its true worth, we can give you a fair appraisal enabling us to connect your precious estate jewelry to one of our affiliated dealers.
A Seller-Friendly Process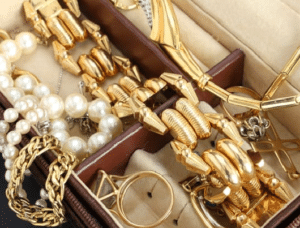 If you've never sold jewelry before, you shouldn't have to worry about taking unnecessary steps to do so. We have developed a simple and direct process enabling you to sell your jewelry and be on your way. You'll meet with one of our professional consultants where they'll examine your jewelry. After a careful appraisal, you'll be made an offer on the spot. Should you choose to accept, you'll receive cash directly, but you're under no obligation to do so. We encourage sellers to take all the time they need to mull over the offer, so you'll never feel any pressure to accept an offer you're not happy with. At Essex Fine Jewelry, not only are we leading buyers of estate diamond jewelry in Atlanta, but we'll consider any kind of used or old jewelry, estate or otherwise. If you're interested in selling estate jewelry, contact us at (404) 481-5555. Selling old jewelry is a great way to make extra cash, so if you have some you're not using, why wait? Give us a call today!

Treat yourself or a loved one to the Essex Fine Jewelry experience.