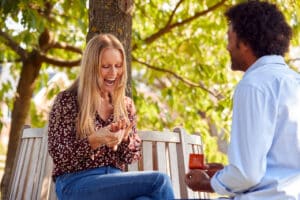 When it comes to choosing a ring for the big day, three stone engagement rings are becoming an increasingly popular choice, and it's not for no reason. Not only do they look stunning with their classic design and multiple diamonds, but there's also something special about the symbolism behind them.
So before you settle on a final decision, let's take a closer look at this engagement ring, why they matter, and—if you decide to go with one—where you can find the perfect piece.
The Classic Engagement Ring
Three stone engagement rings are exactly what they sound like—rings with three stones (usually diamonds) set in a row. They're one of the most popular designs for engagement rings, and can be classic or modern depending on your personal style.
The classic style is made up of a round diamond in the center, and two baguette cuts on either side. This traditional look has been around since the Georgian Era, but gained its popularity in the Victorian Era and hasn't gone out of style since.
Generally speaking, the three stones represent something quite beautiful and important for newlyweds: your past, present, and future together as a couple.
The History of Three Stone Engagement Rings
The history behind these rings dates back to ancient times. The three stones were believed to represent the unbreakable bond of love, fidelity, and devotion between two people.
This symbolism is still popular today! Not many other rings have quite as much significance as this engagement ring style, and that meaning is quite intriguing for couples looking to make that big promise to each other.
What Makes Them Stand Out?
What makes these rings particularly special is that they can be customized in various ways. You can choose the size, shape, and clarity of each stone to suit your style and budget.
Additionally, you can choose the type of metal for the band such as:
White gold

Yellow gold

Rose gold

Platinum
No two rings are the same, which means you can add your own personal touch to your ring.
Why Are They Popular?
Besides the obvious reasons of their beauty and meaning, three stone engagement rings are also popular due to their versatility. They look great with any type of wedding band, from antique or classic styles to modern and contemporary designs.
They can be featured in sets for him and her, making them a wonderful gift for the couple.
Essex Fine Jewelry Has the Perfect Ring For You
Essex Fine Jewelry is the perfect place to find your dream three stone engagement ring. We offer a wide selection of rings in various styles and prices, so you can find the perfect one for you. Our experienced team of experts will help guide you through every step of the process, from finding the right ring to making sure it fits properly.
With a three stone engagement ring from Essex Fine Jewelry, you'll be sure to make a statement on your big day! Start shopping now and find the perfect ring for you.