Our Store was Established to Bring Something Different to Atlanta.
As one of the premier jewelry stores in Atlanta, GA, we know our clients rely on their jewelry to help them stand out from the crowd. It's all about personal style! Rings, bracelets, necklaces, and luxury watches all speak volumes about a person's unique taste and style choices. Sometimes, this knowledge requires jewelry designers to think outside the box and design custom jewelry that truly speaks to each client.
At Essex Fine Jewelry, in addition to our premium quality jewelry lines from timeless brands like Rolex, Tiffany & Co., and others, we design personalized jewelry for our discriminating clients. We've always believed in working closely with our customers. We enjoy designing signature jewelry pieces and promise we'll work hard to exceed your expectations. Our founders bring more than 35 years of combined fine jewelry experience to our business. They know jewelry! The team at Essex understands fine jewelry from the perspective of both shoppers and luxury store owners. When you visit our store, you're treated to a knowledgeable staff who will show you exquisite designs that fit your taste.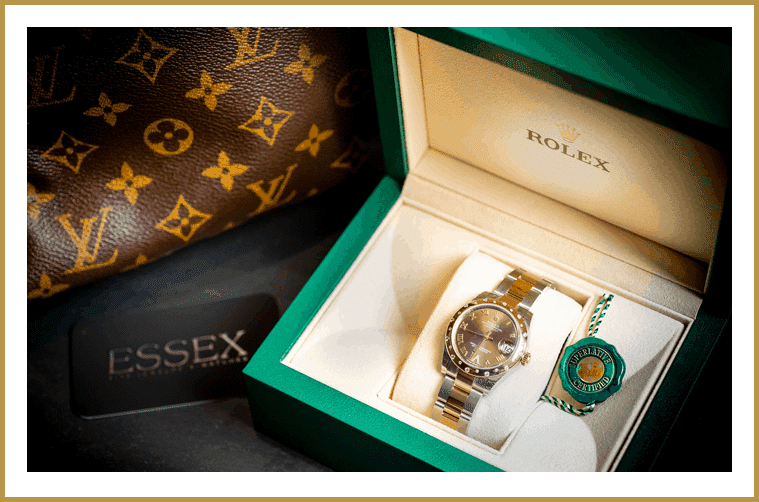 Tucked in Atlanta's Buckhead neighborhood, Essex Fine Jewelry is a decadent retreat. Our passion for jewelry knows no bounds, which is why we've built our store experience for first-timers and experienced jewelry shoppers alike.
We believe in offering a boutique experience from beginning to end. Our knowledgeable staff cater to your every need. Whether you're simply browsing or need a custom design, we bend to your needs for the most positive visit possible. It's the service you've always wanted.
Treat yourself or a loved one to the Essex Fine Jewelry experience.