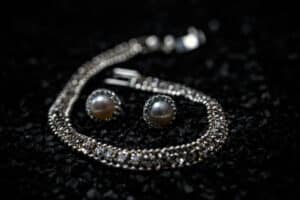 When it comes to necklaces for women, the future's looking brighter than ever. As one of the earliest types of adornment worn by humans, they continue to be a statement piece in any woman's wardrobe. But as the years change, so do the popular styles.
Here are some of the popular necklaces for women that you can expect to see in 2023:
1. Statement Necklaces
Statement necklaces are daring necklaces that make an immediate impact. They usually have large pendants, such as a rhinestone-studded choker or a beaded neck piece, and they are never out of style.
Wear one of these to really stand out from the crowd and make a bold impression!
2. Chokers
Becoming widely popular in the 90s, chokers are the kind of necklaces for women that wrap tightly around the neck, making them a perfect accessory to add extra glamour and femininity to any outfit. From classic velvet chokers to necklaces made of crystal beads, there are plenty of options for everyone's taste.
Try an edgy look with a black leather choker or a more romantic one with a piece adorned with pearls.
3. Layered Necklaces
Comprised of multiple necklaces worn at the same time, these necklaces can have different lengths and styles, but they are usually composed of simple chains or pendants. Layering necklaces is a great way to make an otherwise ordinary outfit look extraordinary.
4. Cluster Necklaces 
Cluster necklaces are necklaces that feature an array of gemstones or jewels clustered together in one piece. These necklaces can be simple and understated, or they can be bold and make a statement. Either way, they are sure to add a touch of sparkle to any ensemble and can include the following:
Diamonds

Pearls

Rubies

Sapphires

Amethysts
These necklaces for women are certain to remain popular in 2023, and can be the perfect addition to any outfit.
5. Coin Necklaces
This necklace has a long standing history, being originally created 650 BC. Coin necklaces are a great way for wearers to express their own unique style and personality. These necklaces come in all shapes, sizes, and colors, and are a great accessory to add some flair to any look. They can be bought in any of the following materials:
Gold

Silver

Bronze

Copper
No matter the style you prefer, necklaces are the perfect way to express yourself and make a statement in this ever-changing world of fashion.
6. Bar Necklaces
Bar necklaces are simple necklaces that feature a long bar-shaped pendant. These necklaces are beautiful with their minimalist design and can be engraved with words or symbols, making them very personal jewelry pieces that are certain to make heads turn in 2023.
Find the Perfect Necklace at Essex Fine Jewelry
If you're looking to add some of the hottest necklaces for women to your wardrobe in 2023, look no further than Essex Fine Jewelry! We have a wide selection of necklaces that will fit any style and budget. From statement necklaces to cluster necklaces, we have it all! But above that, we have quality that will last for years to come.
So don't wait any longer, browse our necklaces today and find the perfect one for you!