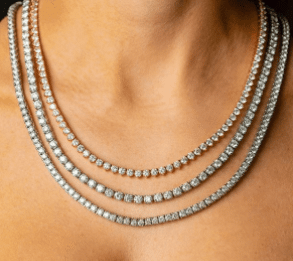 Diamonds are a beautiful gemstone that look great on any kind of jewelry. Diamond necklaces and pendants are a classic piece for anyone's collection and comes in a variety of styles and settings to complement any lifestyle. From simple designs to extravagant ones, if you're shopping around for a new diamond necklace, check out our brief guide to help you out.
Diamond Settings
Diamonds are incredibly versatile and come in thousands of designs. However, when finding your perfect piece of jewelry, you'll find that diamonds are usually set in one of three different kinds of settings if you're looking to have a diamond pendant. These are prong settings, bezel settings, and halo settings.
Prong settings are classic options that are most commonly recognized. These are the typical settings you'll find with multiple prongs surrounding the diamond and holding it in place. The prongs can be crafted from any kind of metal usually some sort of gold or silver and are formed around the diamond to highlight its best qualities.
Bezel settings offer extensive protection for diamonds because they completely surround the precious stone and enclose it within the setting. This is a modern look that is also very secure. It's a great option for those who are worried about chips and scratches as a result of dropping the necklace.
Finally, halo settings are also commonly seen and are similar to bezels. The difference is that smaller diamonds surround the center stone This type of setting really elevates the glamour the necklace has by creating an added layer of brilliance and shine to the jewelry.
Diamond Styles
When shopping for diamond necklaces, you'll find all sorts of design options and if it doesn't exist, there's a good chance it can be custom-made specifically to your vision. If you're looking to choose from a selection that's already available, here are some common styles you may find.
Diamond Pendants. Solitaire pendants are elegant styles of necklaces that are very diverse depending on the cut of diamond you're looking for. These are set at the end of a chain using a prong setting which allows for a significant amount of light through and displays lots of sparkle.
Diamond Tennis Necklace. A tennis necklace is the opposite of a pendant. Rather than one gemstone that's highlighted, this has many diamonds that are arranged along a chain, creating a beautiful circle of diamonds around the entire piece.
Three Stone Diamonds. This style of diamond necklace features three stones that either sit horizontally or dangle vertically on a precious metal chain. These are made from high-quality diamond cuts that really draw attention to the piece.
Looking for more new diamond rings to add to your jewelry collection  Contact Essex Fine Jewelry by dialing 404-495-5805 or browse our collections of necklaces online.