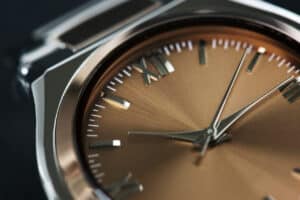 Men's jewelry has become more and more popular over the years, especially men's designer watches. Seen in catalogs and styled on the most famous celebrities, these watches have become a fashion asset.
Whether you're looking for a watch that makes a statement or one that is simple and understated, men's designer watches provide something to fit every taste and budget. But before completing a designer watch purchase, there are few key elements to consider.
Your Style and Taste
Like your fashion style, your designer watch has its own. As a staple, this piece can be customized to meet your individual taste including the following:
Color

: What color do you prefer? Do you want a bright, flashy look, or something subtle?

Strap

: The strap can be made from leather, metal or rubber. Do you want a classic feel with leather straps, or a more modern look with metal and rubber?

Case

: The case of the watch is often made from stainless steel or gold. Do you want a simple design or an intricate one?
All of these elements together can create your look—from edgy to classic. With so many options to choose from, you can find the one that's perfect for you.
Durability and Quality
It's not enough for it to look nice or fit your style—quality matters. You don't want to buy a watch that'll be damaged or broken after only being worn a few times. Often, men's designer watches are made from high-quality materials that withstand everyday wear and tear, but it's always good to check the material used before making your purchase.
The kind of material that will work best depends on your lifestyle. If you're looking for a watch that you can wear to the office, then you may want something with a stainless-steel back and sapphire crystal glass. The material you'll want to avoid is plastic as it tends to scratch easily, and the quality can be worrisome.
Flexibility in Price Range
The average price range of designer watches can go between a few hundred to a few thousand dollars. Depending on the quality and features, the price can be higher or lower. It's possible to find less expensive men's designer watches as well, but it's important to make sure that you get your money's worth by looking at the material and craftsmanship before making a purchase.
Figure out what you're willing to spend and if it will be a worthwhile purchase that will last.
Features to Consider
Like we stated before, the features you want in men's designer watches will depend on your personal preferences and lifestyle. If you like to stay connected, look for men's watches with smartwatch capabilities. If you're an outdoors enthusiast, find men's watches with features like altimeters and compasses.
Other features you can keep an eye on are the following:
Water resistance

Stopwatch capability

Date display

Luminous hands
No matter which designer watch you choose, the most important thing is that it fits your lifestyle and taste. That way, you'll get something that you can wear with pride.
Which Material is Suitable for Your Style?
Designer watches are available in a variety of materials, including stainless steel, gold, and titanium. Each material has its own unique look and feel which makes the choice ultimately up to you. After making the selection, the best thing you can do is read up on how to care for each watch depending on the material so that you can keep them looking brand new forever.
Find the Highest Quality Men's Designer Watches at Essex Fine Jewelry
When you're ready to purchase a designer watch of your own, come to Essex Fine Jewelry. We have men's watches of the highest quality and craftsmanship, ranging in price and features. Our knowledgeable staff will be there to guide you through the process so that you find a men's watch that fits your style at the best quality!
Shop now and get a luxurious mens watch at an unbeatable price.