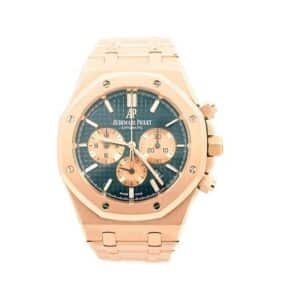 Watches never go out of style, even if their function isn't so necessary in the age of smartphones. Rather, they can lend a classic, masculine touch to any man's aesthetic and serve as a luxury element for any outfit.
If you've wondered, "What would be the best watches for me and what watch should I buy?", you don't have to go down the rabbit hole of luxury watches and brands. We put together a list of the top trending luxury watches in 2020 for men and a guide on how to choose a watch that fits your unique aesthetic. Take a look at some of the pieces we've curated below!
1. The Tag Heuer Connected Golf Edition Watch
If you're not particularly fond of leather or flashy rare metals, and you have an affinity for golf, this watch would make an excellent addition to your collection. Tag Heuer is known for for keeping their thumb on the pulse of modern watch trends and has come out with a number of fantastic and high-quality smartwatches. This connected golf watch is no different and serves as a golf-focused smartphone-connected accessory, complete with an OLED screen and a 45mm black titanium case. The functions are seemingly endless, including a heart rate monitor, gyroscope, data on global golf courses, and more.
2. Any watch from Lange & Söhne
This luxury watch brand is designed with the watch connoisseur in mind. If you love collecting watches but haven't invested in a piece from Lange & Söhne, now is the time to explore their wide range of French-style analog watches.
3. The Junghans Max Bill Hand-Winding Watch
Are you a fan of minimalist design? It doesn't get quite as simple (or fashionable) as this piece from one of the biggest watch manufactures in the world. Sleek, sexy, and simple, the MAx Bill Hand-Winding watch features clean dials and simplistic indices, as well as a soft matte black leather band. If you don't need the bells and whistles of a modern watch and prefer the classic feel of a hand-winding watch, this could be a great choice for you.
4. The Oris Hangang Limited Edition 01
If your taste leans away from leather bands and closer to metal fittings, this watch would be perfect for you. This limited edition watch is a dive watch that would perfectly suit the gentleman who enjoys spending time diving or on the beach.
5. The Essex Audemars Piguet 18k Rose Gold 41mm Watch
Rose gold is a metallic color choice that's gained popularity in recent years, and for good reason. The hue suits virtually any aesthetic and pairs particularly well with suits. This gorgeous yet masculine watch from Essex Fine Jewelry boasts rose gold subdials and a blue grand tapestries dial, as well as royal oak elements. It's not a particularly bulky watch either, making it ideal for those who prefer a subtle, luxurious look to their accessories.
How was our list of the top luxury watches for men in 2020? Drop a comment below and let us know which one was your top pick.