Earrings
Earrings are an essential piece of any women's jewelry collection. Whether it's a night out on the town or an evening with friends, earrings add an elegant touch to most any occasion. You'll need several pairs of earrings in your jewelry box to ensure you're prepared for any event. At Essex Fine Jewelry, we carry beautifully crafted diamond earrings that are sure to inspire your unique sense of glamour. Whether you're looking for glimmering gold or silver earrings or colored stone or pearl earrings, our extensive selection ensures we have something for every customer who visits our showroom.
Earrings For Every Occasion  
When it comes to your unique look, earrings are like the icing on the top of the cake. The right pair lets you express your personality and show off your amazing sense of style. Whatever earrings you choose, have fun with them! Wear hoop earrings  to dinner and a show. They work well to add a little flare to your ensemble. For more formal events, such as weddings and black-tie events, drop earrings offer an elegant look. Add even more sparkle when you complete your elegant look with a pair of 1-carat diamond stud earrings. When the occasion calls for a bit more drama, a pair of 2-carat diamond earrings will steal the show! For the most stunning selection of earrings for every occasion, drop by our Atlanta store or shop our online store.
Why Choose Us?
Based in Atlanta, GA, Essex Fine Jewelry loves helping women discover that perfect pair of elegant earrings to accent the rest of their wardrobe. We truly enjoy inspiring our clients to look and feel their best with jewelry. You can't believe how a woman's eyes sparkle when she looks in the mirror and catch the shimmer of a pair of gold drop earrings. By carrying a wide collection of precious metal earrings, we're certain that you'll find a beautiful pair to add to your collection. Visit our showroom or contact us by phone if you want to learn more about our diamond earrings and jewelry, contact us and we can answer them!​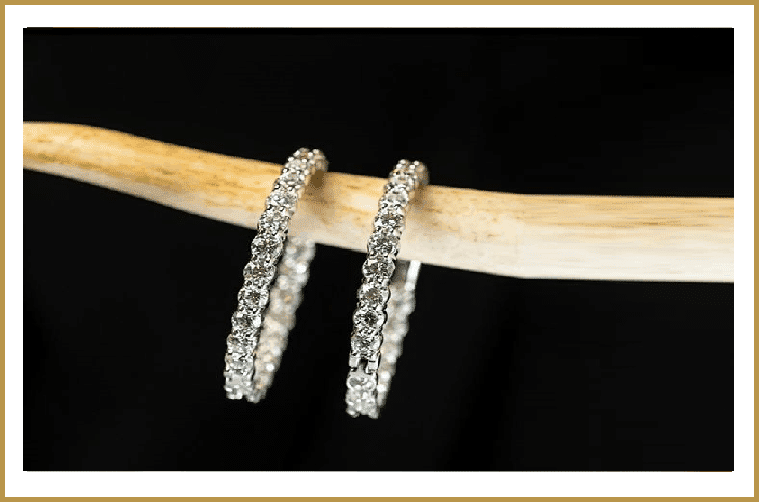 Treat yourself or a loved one to the Essex Fine Jewelry experience.