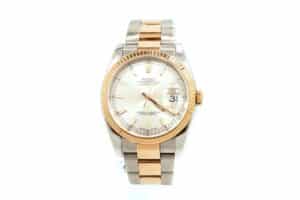 With Father's Day on the way, it's about time you thought about what you're going to give the old man. A fancy pen set? That's a terrible idea. A tie? He already has five of those. This time why not give him a present that truly represents how much he means to you — something spectacular that he'll always love and appreciate? The list of great Father's Day ideas practically begins and ends with Rolex watches. Here's a quick guide on how to go about shopping for pre-owned Rolex watches in Atlanta.
Beware of Fakes
Remember those old movies where a shyster on the street has a coat stocked with imitation watches for sale? While those characters may not exist anymore, imitation Rolex watches definitely do exist. If you buy one of these rip-off Rolexes, the drop-off in quality is noticeable. It won't last long, and you'll definitely be paying too much for an inferior product. If you stick to trusted sellers of Rolex watches in Atlanta, then you'll know you're getting the real thing.
Choosing a Model
If you're new to Rolex watches, you may be surprised to learn that there are literally hundreds of different models and years available. Each kind of Rolex has its own style and special features. Sea Dwellers, for instance, come with their own special kind of Oyster strap and are renowned for their ability to function under extreme water pressure. Before settling on the right kind of Rolex for dad, look over all the different models online to see which ones he might like best.
Survey the Damage
Don't be put off if you notice scratches on a pre-owned Rolex. If you're considering a luxury watch that 20 or 30 years old, there should be some marks on it. Any scratches or signs of wear are merely indications that the watch has a history, and this is a good thing. There are limits, however. If there are too many scratches on its face that you think Dad might have a problem with it, perhaps look elsewhere. Also, while dents themselves are not a cause for concern, they could be a sign that the watch has suffered mechanical damage. A reputable retailer should be able to guarantee that the watch is working properly.
Look for the Serial Number
Every element of Rolex watches is carefully thought out. This includes the serial number, so make sure it's clearly cut into the watch. One of the easiest ways to notice if a Rolex is a forgery is if the serial number appears to be stamped on or is uneven or cheap looking. Another thing to look for is how the second hand operates. The second hand on Rolex watches don't "tick" the way most watches do. While they technically do tick, they do so at around 4 to 6 times per second. The action is so quick that it gives the appearance of moving smoothly from second to second. If you notice that the second hand ticks for each second, then it's either a fake or something is seriously wrong.
When you're ready to get dad something really special for Father's Day and are wondering where to buy authentic Rolex watches in Atlanta, come visit Essex Fine Jewelry, or give us a call today at (404) 481-5555.