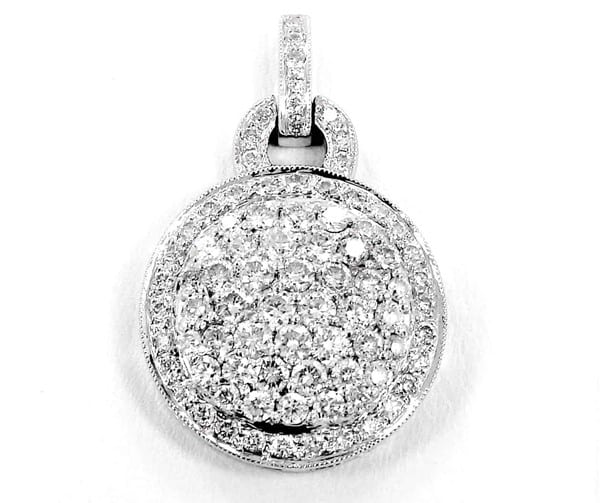 A custom necklace pendant represents one of the most elegant pieces you can wear. The right gold pendant, custom-made to represent your style, makes an unmistakable statement without ever saying a word. Choosing the perfect customized pendant design is easy with a few tips and tricks from the professionals at Essex Fine Jewelry.
The Chain
How do you pick the right combination to bring out the beauty of your custom necklace pendant?
If you are one of those who pays attention to the finer points of jewelry, you already understand that selecting the perfect pendant involves choosing the right necklace. For the rest of us, the following tips for choosing a pendant may help:
Start by browsing through our collection for a pendant that stands out to you.
Have a look at our selection for a necklace that seems to go well with the pendant. The chain should represent your personality and make you feel good.
Select a chain that can support the weight of the pendant.
Match the color with your chosen pendant to complete the look.
After you settle on a chain, you will need to consider the measurements, material, and style:
Measurements
Necklaces come in an endless range of lengths and widths. Shorter, thinner chains typically carry a custom necklace pendant with precious stones, like diamonds. Fashion pieces do better with long, thick chains or bold chain-link designs.
Material
Chains come in a vast array of available materials. However, gold and silver represent two of the most popular necklace chain options, especially for complementing a pendant.
Style
Pendants look superb adorning a variety of chain styles, depending on your personal preferences. Consider a chain that bends easily in multiple directions. It will display your pendant better and last longer.
The Pendant
A custom necklace pendant takes a simple chain from an average-looking neckpiece to a statement of luxury. Essex Fine Jewelry designs a wide range of beautiful options, from sterling silver pendants to 14K gold lockets. Select the pendant from our collection that suits you best and be sure to ask us whether the pendant's clasp will allow the chain to pass through it easily.
It is best if you match the color of the pendant to the chain. For example, if you have rose gold pendants, a rose gold chain completes the aesthetic. Proportions are also important; a huge pendant will overwhelm a thin, small chain.
More Ideas For Your Custom Necklace Pendant
Choosing the best pendant for a custom necklace requires some creativity, and the main goal is to feel good about wearing it. Feel free to look around for inspiration from fashion icons, pinterest, and social media trends, but do not be afraid to go for what feels like a perfect match for your personal style. Ultimately, the best piece for you depends on what you like and what makes you feel comfortable.
Are you looking for the perfect custom necklace pendant? Contact Essex Fine Jewelry by dialing 404-495-5805 or browse through our collection of pendants.