Luxury Watches in Atlanta
Nothing says sophistication more than a sleek, elegant watch on your wrist. In the beginning, watches were made to help their wearers keep track of the time. Now, watches are one of the most common accessories worn by both men and women. A person who wears a luxury watch has a distinctive quality that shows the world they live a no-expenses-spared lifestyle.
 Types of Watches
Essex Fine Jewelry is one of the most respected Patek Philippe and Audemars Piuguet watch dealers in Atlanta. We proudly offer several elite lines of men's designer watches including Rolex and Omega. No more wondering where to buy authentic Rolex watches and other prestigious watch brands.
Why Essex Fine Jewelry Watches?
Whether you're heading into the office, teaching a class, or running a marathon, with a high-end timepiece on your wrist, you're bound to succeed. Our Atlanta luxury watches lend an air of elegance, confidence, and class. They're also practical. They're fashioned from precious metals that won't deteriorate over time, so you're making a worthy investment to enjoy today and pass on to the next generation.
 Check Out Our Blogs on Watches: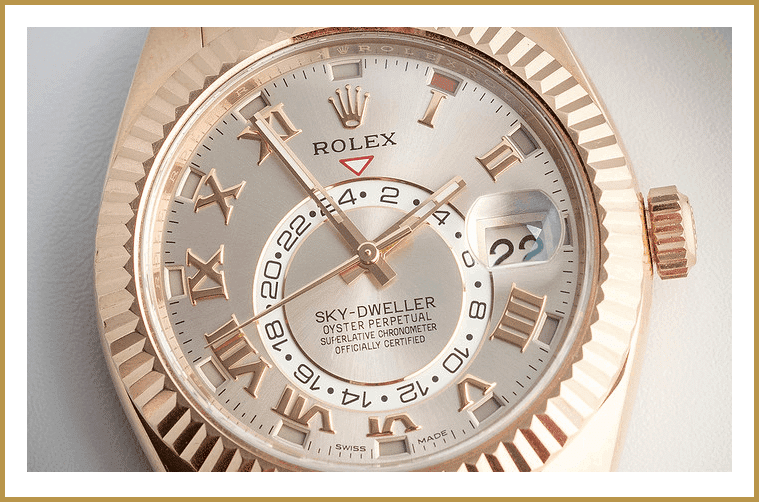 QUALITY AND LUXURY
OUR WATCHES COLLECTION


Luxury Watches in Atlanta
Speaking of worthy investments, you can make in investment in yourself and still have enough to splurge on a few other pieces of jewelry. We offer one of the most extensive selections of pre-owned Rolex watches for sale in Atlanta for men and women. We invite you to visit our showroom so that we can show you our entire collection. When you're shopping online and search for "Rolex watch store near me," you'll recognize Essex Fine Jewelry as a trusted purveyor of exclusive luxury watch brands.
When you want to stand out from the crowd, wear what people with power and prestige wear: a sophisticated luxury watch. For help selecting the ideal watch for your lifestyle, visit our store in Atlanta, GA, and talk with one of our expert jewelry and watch associates. Our goal is to get to know our clients well enough that we can suggest the perfect watch. Whatever your style and taste, we have a luxury watch that will look perfect on your wrist.
When you're in the area, stop by our store and let one of our associates help you find a watch you're sure to treasure for many years. All of us are more than happy to show you our complete collection and we'll patiently work with you until we find your watch. If it's more convenient, you can always shop our online store. For any questions about our distinctive watches, contact us by phone.
Treat yourself or a loved one to the Essex Fine Jewelry experience.